DIY home improvement projects can increase the appeal and value of your home for a fraction of the cost. What projects will take your home from builder grade to near custom grade? These eight DIY projects will update your home for $30 or less: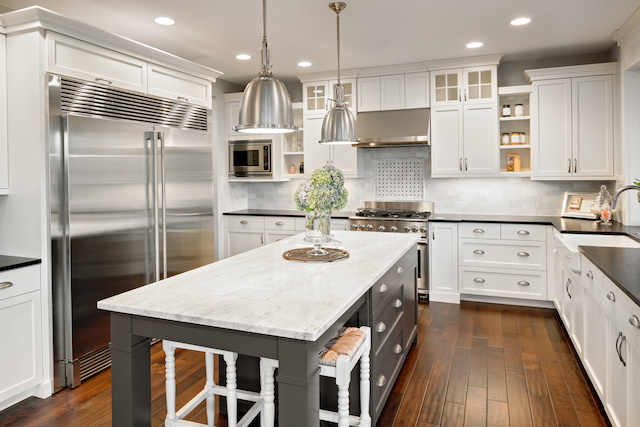 Shiplap – Since Fixer Upper, the shiplap look has become highly desirable. To get the look for way less, without tearing up your walls, buy some plywood, trim down into planks, attach the planks to the wall using adhesive and nails and paint. Using plywood is the do-it-yourself shiplap look for a fraction of the cost. Click here for step-by-step instructions.
Carriage Garage Doors – Spice up your plain garage doors by transforming them into the highly sought-after carriage look. Simply buy these magnetic hinges and handles and attach them to your garage door and voila! You've created the look for just $14 – as compared to $1,400 you would spend for only one carriage-style garage door.
Add Height to Kitchen Cabinets – Custom cabinets can be expensive. But, by adding some height to your cabinets – pre-primed MDF (Medium Density Fiberboard) and decorative crown molding to the tops of your cabinets – you can get the look without paying the hefty price tag. These step-by-step instructions will help.
Mirrored Closet Doors – A small bedroom can appear larger by adding mirrors to the closet doors. To do this yourself, head to the store and pick up a couple of cheap, framed floor-length mirrors, paint the frame to match the door and attach with construction adhesive. Take it one step further by gluing trim pieces to the mirrors. Not only will your room feel larger, but it will also appear more high-end.
Painted Marble – As it turns out, you can create a marble tabletop yourself. Follow this DIY Faux Marble Dining Table to achieve the high-end look on the cheap.

Glass-Front Cabinets – Glass cabinets are more attractive than the usual cabinets. Pick out a few cabinets and replace the existing interior panel with Lexan polycarbonate glass-substitute sheets. Don't do this to every cabinet – just a couple to put wedding china, bar glasses, etc. on display. Follow this step-by-step instruction guide.

Frame the Bathroom Mirror – Up your bathroom's appeal by framing the bathroom mirror with decorative molding. Here is a how-to tutorial to help.
Under-Cabinet Lighting – Install soft, inexpensive lights under your kitchen cabinets to set the mood and highlight your countertops and backsplash. With tons of options, this guide will help you choose the option that'll work best for you.
Have questions about any of these DIY projects? Give me a call. I would be happy to help!