While it's still hot, hot, hot in Central Texas, fall is around the corner and will be here before you know it! 2020 has undoubtedly been a unique year so far, so we wanted to share a list of fun fall activities that your tribe can do together without breaking the bank.
Hughes and Company Real Estate's Central Texas Bucket List for the Fall Season:
Tip: Click on the image to download a pdf version of our bucket list.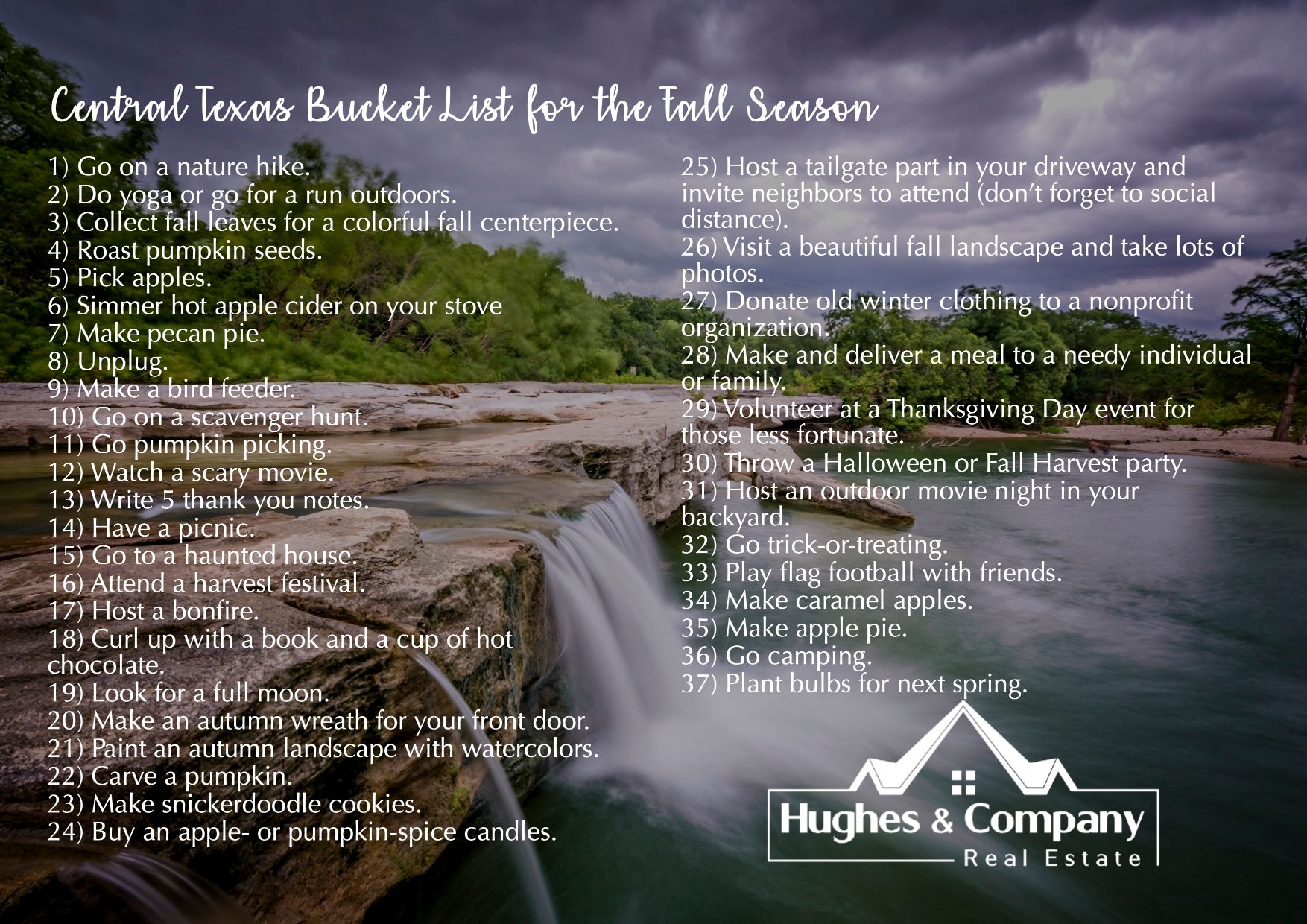 1) Go on a nature hike.
2) Do yoga or go for a run outdoors.
3) Collect fall leaves for a colorful fall centerpiece.
4) Roast pumpkin seeds.
5) Pick apples.
6) Simmer hot apple cider on your stove
7) Make pecan pie.
8) Unplug.
9) Make a bird feeder.
10) Go on a scavenger hunt.
11) Go pumpkin picking.
12) Watch a scary movie.
13) Write 5 thank you notes.
14) Have a picnic.
15) Go to a haunted house.
16) Attend a harvest festival.
17) Host a bonfire.
18) Curl up with a book and a cup of hot chocolate.
19) Look for a full moon.
20) Make an autumn wreath for your front door.
21) Paint an autumn landscape with watercolors.
22) Carve a pumpkin.
23) Make snickerdoodle cookies.
24) Buy an apple- or pumpkin-spice candles.
25) Host a tailgate part in your driveway and invite neighbors to attend (don't forget to social distance).
26) Visit a beautiful fall landscape and take lots of photos.
27) Donate old winter clothing to a nonprofit organization.
28) Make and deliver a meal to a needy individual or family.
29) Volunteer at a Thanksgiving Day event for those less fortunate.
30) Throw a Halloween or Fall Harvest party.
31) Host an outdoor movie night in your backyard.
32) Go trick-or-treating.
33) Play flag football with friends.
34) Make caramel apples.
35) Make apple pie.
36) Go camping.
37) Plant bulbs for next spring.
Do you have a favorite fall activity? Drop us a line! We're always looking for creative ideas to add to our Central Texas bucket list for the fall season.